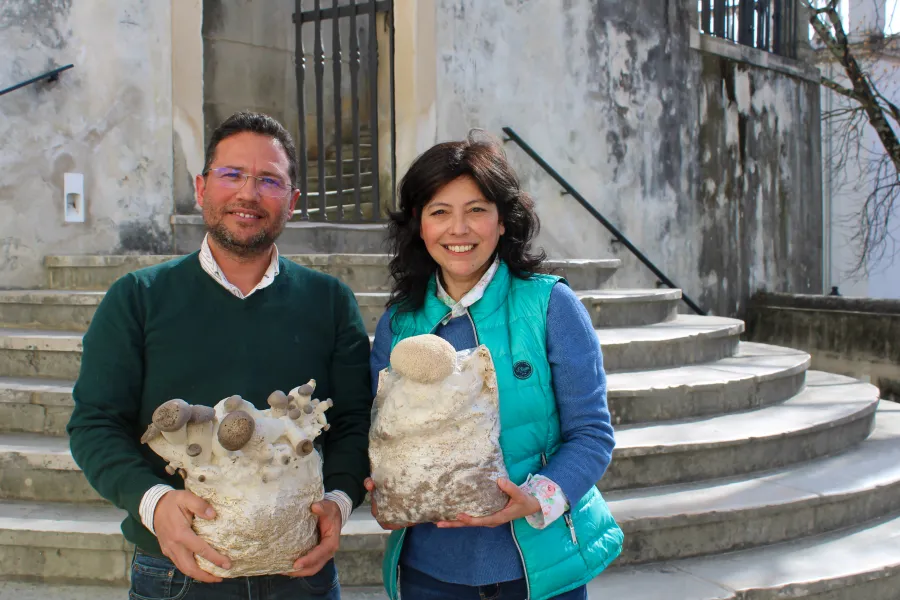 The University of Coimbra coordinates the project "Mushrooms 'from Meadow to Plate': from the treatment of metabolism diseases to a sustainable healthy diet based on the valorization of agroforestry resources", which will receive 391 thousand euros under the Recovery and Resilience Plan ( PRR) to strengthen innovation in the agri-food sector with a focus on sustainable mushroom cultivation.

The project, coordinated by the researcher at the Center for Neurosciences and Cell Biology of the University of Coimbra (CNC-UC), Anabela Marisa Azul, aims to contribute to the sustainable cultivation of medicinal mushrooms, such as Pleurotus ostreatus (oyster mushroom), Pleurotus eryngii (mushroom -do-thistle) and Hericium erinaceus (lion's mane mushroom) from the recovery of rice straw and other national agricultural and forest residues.
Currently, «many of these residues are burned on site, constituting a source of greenhouse gas emissions, with damage to air quality. The incorporation of these residues in formulations for growing mushrooms will improve their nutritional properties and increase the production, sale and consumption of this product», contextualizes the UC researcher.

This project, which will run for 30 months, also intends to incorporate traceability measures along the entire production chain, in order to create a healthy and sustainable product certification system, aimed at mushrooms, substrates and their by-products.
Anabela Marisa Azul explains that, in addition to the sustainable cultivation of mushrooms, the «assessment of nutritional properties and components in mushrooms is also planned, with a focus on scientific validation of the benefits of their consumption for reducing the risk of diseases, such as obesity and diabetes, to attenuate inflammatory events, and to improve cellular metabolism». The researcher also underlines the importance of the project «in promoting mushrooms as a healthy, sustainable food that is integrated into the culture of the Mediterranean diet».

In addition to the CNC-UC, the Institute for Clinical and Biomedical Research of Coimbra (iCBR) and the Research Center for Engineering of Chemical Processes and Forest Products (CIEPQPF) of the Faculty of Science and Technology of the UC (FCTUC), also integrate the project. The project will have as partners the companies Fungiperfect Lda.; Growingdetails – Unipessoal Lda.; Floresta Jovem Lda.; Leal & Soares, S.A.; the Professional School of Mealhada – Unipessoal Lda.; the Atlantis Forestry Organization (OFA), Forestry Development Association; Pinhal Maior – Pinhal Interior Sul Development Association; and the Central Regional Directorate for Agriculture and Fisheries (DRAPC). The National Institute of Agricultural and Veterinary Research (INIAV) is a member of the advisory panel.

"Mushrooms 'from Meadow to Plate': from the treatment of metabolic diseases to a sustainable healthy diet based on valuing agroforestry resources" is one of the six projects funded under the Sustainable Food initiative of the Innovation Agenda for Agriculture 2020-2030.
More information about the project here.

 
Carolina Caetano, Anabela Marisa Azul and Catarina Ribeiro